EVOtile HIGHLIGHTS
10-Year Warranty - EVOtile Performance

15-Year Warranty - EVOtile Professional 

100% recyclable, made in the UK from quality new PVC

Fast-delivery normally 2-3 working days

Leaves an attractive & odour-free finish

Life-expectancy of 20+ years

Anti-slip properties when wet

Low maintenance – just sweep and mop

Minimal effort and preparation for installation, no bonding normally required

High-density material for heavy loads – cars, jacks, loaded cabinets and even engine hoists. Solid tiles weighing 9kg per square metre.
Garage Floor Tiles - PVC Interlocking Tiles that Transform Your Garage or Workshop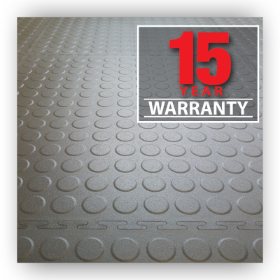 EVOtile virgin PVC tiles offer the best appearance, durability and colour stability. Once it's down, it's down. A lifetime garage flooring solution.

Our interlocking garage floor tiles have been made in Britain for 23 years. They quickly and easily cover flaking paint and poorly finished or dusty concrete. EVOtile virgin PVC tiles provide an attractive, insulated, tough and long-lasting flooring solution. They are a solid tile weighing 9kg per square metre and are 100% recyclable with a life span of 20 years or more.

GaragePride's top-quality PVC garage floor tiles are attractive, durable and low maintenance. They are satisfyingly quick and easy to lay, and tough enough to be used with engine hoists, car jacks or gym equipment. We are the UK's leading provider of specialist garage storage and flooring products - your one-stop-shop.
EVOtile Professional – for business applications and for a premium result in residential garages. 15-year manufacturer's guarantee.
EVOtile Performance – for residential garages and home workshop applications. 10-year manufacturer's guarantee.
A NATIONAL INSTALLATION SERVICE IS AVAILABLE - PLEASE ASK ABOUT PRICE AND AVAILABILITY
Read More
Garage Flooring Tiles
UK made from best quality virgin PVC with a 10-15 year manufacturer's warranty
Free of odour and surface imperfections, unlike cheap recycled products
100% recyclable with a projected life span of 20 years+
Creates an attractive, dust-free, insulated and more comfortable garage environment
Virgin PVC provides the best appearance, durability and stability.
Easy to clean, just sweep and mop
Larger size for fast coverage. The Professional range is a true 50cmx50cm tile - exactly 4 tiles per square metre
Unaffected by automotive fluid spills
Tight-fitting interlocking joints
Loose laid - take it with you if you move
Easily cut with wood-working hand tools
You do not need any floor laying experience, the tiles are banged together using a rubber mallet. Cut the tiles up to walls or fixed points leaving a 5mm gap for expansion. Please note, dark colours such as graphite or black are best used where car tyres will sit.
Ideally please ask for a quotation that takes into account trimming wastage to save finding yourself short of tiles. If preferred, an installation service is available, please ask for a quotation.
Need a hand?
Give us a call on...
01743 742 028


What makes ours different?
We keep true to the advertised thickness of our EVOtile tiles. So, our 7mm PVC tiles are in fact 7mm thick! Some of our competitors talk about thickness as if they have a clear advantage when in fact, they're using a deep grid structure beneath their tiles. This is designed predominately to save material and for bracing cheap recycled PVC because of its characteristics after being injection moulded. Cheap or fully recycled plastics have physical and chemical properties that will tend to want to curl the tile over time. Buy cheap, buy twice!  
This is why we offer a 10-15 years guarantee and advertise a life expectancy of 25+ years on our Professional range of tiles. 
| | |
| --- | --- |
| The Rear Face of Our Virgin PVC Tiles | The Rear Face of Cheap Tiles |
Our tiles have a fine grid pattern, why?
EVOtile Professional flooring tiles are made from quality virgin plastic that doesn't require bracing. The fine pattern is designed to ensure a smooth flow of plastic during moulding, and it create pockets of air that prevent the tile from clicking when walked on. The grid also creates extra friction that resists movement if a rectangular pad of tiles has been laid. The diagonal channels allow the floor to breathe, which is important for damp floors or concrete floors that have not cured yet.
Don't try jacking up a car on cheap garage floor tiles that are not full thickness PVC!
When you buy our UK-made tiles you can be sure of good quality PVC. One high profile retailer claims theirs to be UK-made, yet they are manufactured in Thailand. Out of stock tiles is usually a giveaway.
UK manufacturers have high standards of health, safety, the environment and quality. Independent tests have shown some of the cheap tiles being sold in the UK, but manufactured overseas using arbitrary recycled plastics, have traces of arsenic, lead and cadmium. If in doubt, ask for samples! Give them the sniff test, look at the surface finish, the rear face and the joint tightness. They are usually cheap for a reason.
A Little Technical Information:-
Fire Performance - tiles do not support combustion and achieve Class 1 spread of flame when tested to BS 476: Part 7
Colour Fastness/Resistance to natural light: EN 20105-B021 - 5 (no damage)
Resistance to Hot Objects/Solder - Good
Anticipated Service Life - 25 years +
Weight 9kg/m²
Back to the Top
Garage Floor Tiles and Garage Cabinets Time Lapse.
Proven in Arduous Workshop Applications
Testimonial
5.00 Excellent
A smooth experience from start to finish. I ordered 121 virgin pvc 7mm tiles and 9 matching edge slope tiles, all in graphite. I was kept informed about the order, its dispatch and its delivery. They arrived on a pallet, well wrapped and protected. That was yesterday. Half the tiles have been laid. They are very easy to lay and are great quality. I'm very pleased and can thoroughly recommend them.
5.00 Excellent Andrew T., Chigwell
Exceptional service at every stage, from initial assistance in comparing and choosing the right floor tile, to help with measuring the space correctly and tips for laying down the floor. 144 7mm smooth-textured PVC tiles in graphite were delivered next day on a pallet (one missing item was rectified immediately and arrived a day later). My floor is now down and looks amazing - a fantastic product
5.00 Excellent
A very efficient and professional service from placing our order through to delivery. A very well made product. Would highly recommend and, as this is the second time we have used your Company, we would not hesitate in using you again.