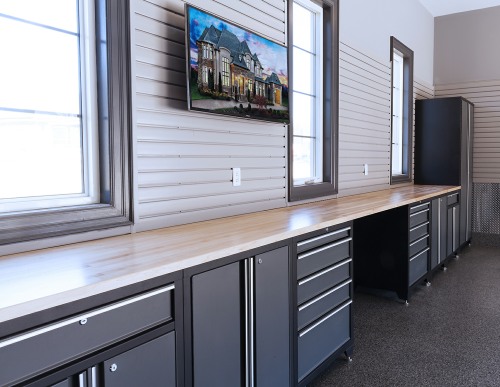 The Professional 3.0 series of 18 gauge steel cabinets are the latest from NewAge Products. They are probably the strongest and most capacious top quality products available in the UK at the present time - they provide great value-for-money considering their strength and capacity.
Heavy duty storage cabinets don't get any tougher yet attractive than this. They will provide a long life in either residential or industrial environments. They incorporate new styling, and features such as double walled doors, improved locking, cable management holes, soft closing doors and drawers, and drawer dividers as standard.
Load the shelves with items such as car batteries, trolley jacks, gym weights, books, or just the laundry. Move shelves up to make space for bulky items such as golf bags. Pro Series 3.0 cabinets include a heavy duty clothes rail for use if required.
These cabinets are 610mm deep allowing you to stow away bulky items, and the locker is 2100mm high with a total loading capacity of 450kg shrugging off heavy tools and equipment.
CLICK ON THE IMAGES TO SEE THE FULL DETAILS AND PRICES.