Workshop Layout Design, Supply and Installation Service
Take the guesswork out of what will work for your new maintenance, manufacturing, or education workshop project.
We can design, visualise, supply and install a stunning new fit-out of workbenches and storage. We will maximise efficient and safe use of your workshop area using best quality workbenches, drawer cabinets and cupboards. We will create a layout that will please employees and which you will be proud to show to clients, whether behind the scenes or in customer-facing areas.
You might be a bicycle repair shop, an MOT and service garage, a product manufacturer, a school or university, a transport company with your own workshops - we will understand your requirements and together refine them into a layout that works for you.
Larger projects will require a site visit and survey, but many smaller projects can be started via telephone consultation and the provision of interior photographs and sketches marked up with the principal dimensions. This simple procedure helps us to provide you with a design proposal within a matter of days. The layout can then be refined together as you really begin to understand how your new stunning company or educational workshop space will look. In most cases the layout will be represented as a photo-realistic render supported by 2D dimensional drawings.
Corporate colours can be catered for, along with company logos embedded permanently into our 7mm thick PVC flooring tiles.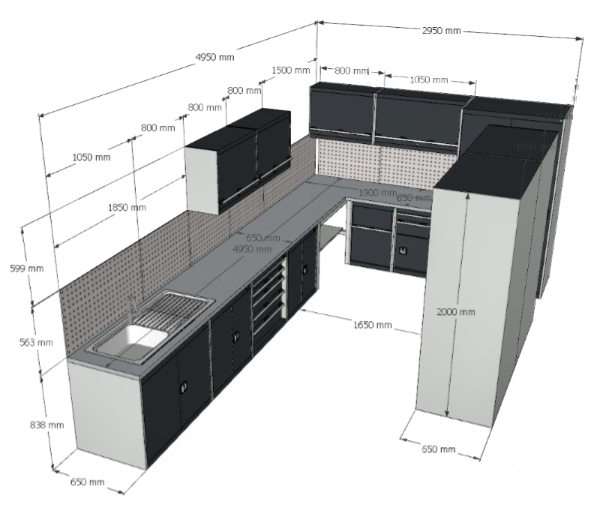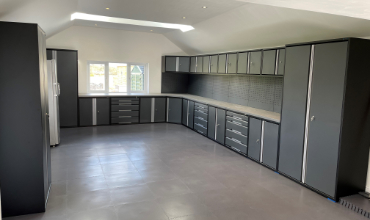 Create the Ideal Working Environment
GaragePride EvoLine cabinets at 550mm deep can be used to create huge cupboard and drawer storage capacity. Worktops can be tough, 40mm thick lino clad for best durability, or multi-layered beech. This clean workshop interior also benefitted from our 7mm thick PVC interlocking tiles, insulating the floor and creating a much more pleasant working environment.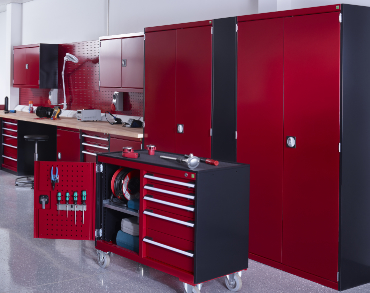 Custom Design, Custom Colours
Would you like your new run of cabinets manufactured in your corporate colours? We can supply UK-manufactured cabinets in the full range of RAL or Pantone colours. To complement your cabinets, 7mm thick interlocking PVC tiles can be printed with a durable company logo to make a real impact.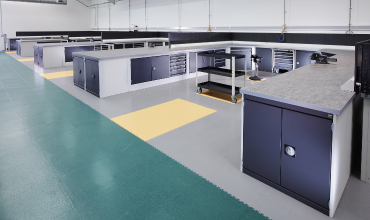 Automotive Workshop Bays
Do you need to give your garage or automotive workshop a major overhaul? We can help you visualise and refine the layout well in advance of you committing to any cost. Cabinets are manufactured in the UK to your specification, delivered in 4-6 weeks (standard products 3 weeks), and professionally fitted by our manufacturer's experienced team.
No Project is Too Big or Too Small
We design and supply residential garage interiors day in and day out. If you have a smaller commercial workshop or manufacturing area then we would love to create a cabinet or workbench layout for you. We can turn these around in a matter of days. The above is a rendered design for a university's maintenance workshop using Bott cabinets with plenty of storage and worktop space, along with seating areas.
Request a free, no obligation design service
Please give us a call on 01743-742028 to discuss your project
Case Studies
This is an example of a commercial project we completed that involved a detailed site survey, design submissions and the provision of an installation service.
ENGIE is a leading energy and services company focused on three key activities in the UK: production and supply of energy, facilities management and regeneration. The company enables its customers to embrace a lower carbon, more efficient and increasingly digital world. First Hydro Company operates Ffestiniog and Dinorwig Power Stations in North Wales. The two facilities offer critical back-up electricity during periods of excessive demand on the national grid system.
ENGIE approached GaragePride and after an initial meeting with Bott and the teams at ENGIE's pumped storage plants in north-west Wales, the facilities' needs were scoped and specified.
The team at ENGIE were looking to achieve a hard-wearing workshop set-up that would uphold a safe working environment for employees.