PRODUCT HIGHLIGHTS
Best quality virgin PVC with a 10 years warranty
High density material for heavy loads - cars, jacks, cabinets.
Creates an attractive, dust-free, insulated and more comfortable garage environment
Easy to clean - sweep and mop
100% recyclable with a projected life span of 20 years
Odour free, unlike tiles made using recycled materials
Larger size for fast coverage. A true 50cmx50cm tile - exactly 4 tiles per square metre
Garage Floor Tiles - Transform Your Garage or Workshop Floor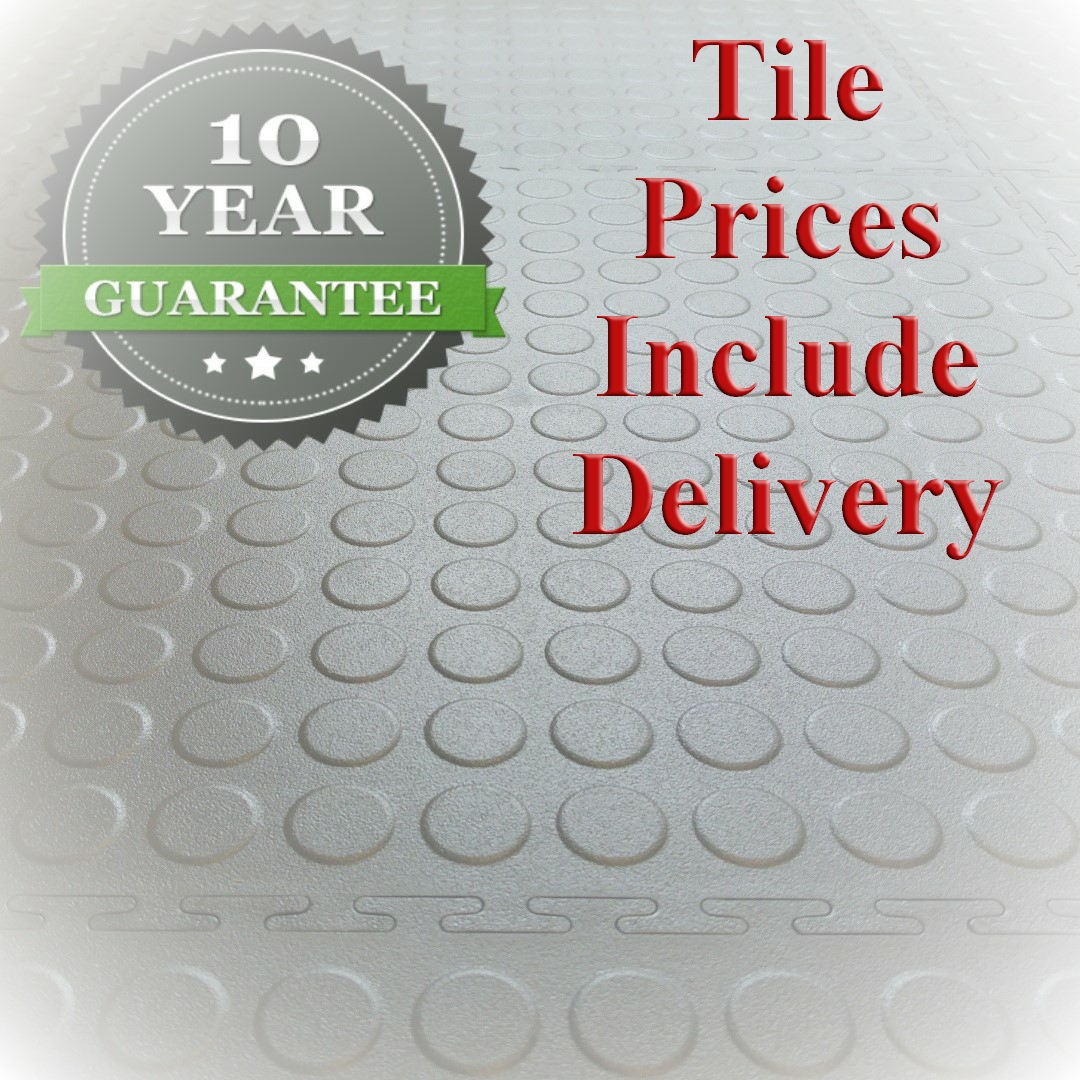 Virgin PVC tiles for the best appearance, durability and colour stability. "Once it's down, it's down" - a lifetime solution. Fitting service available.

Interlocking garage floor tiles quickly and easily cover flaking paint, and poorly finished or dusty concrete. Our virgin PVC (not recycled) tiles provide an attractive, insulated, tough and long lasting garage floor solution. Virgin PVC tiles provide the best appearance, durability and stability. 100% recyclable with a life span of 20 years or more.
GaragePride's top quality PVC garage floor tiles are attractive, durable and low maintenance. They are satisfyingly quick and easy to lay, and tough enough to be used with engine hoists, car jacks or gym equipment. Manufactured by the UK's leading producer of PVC flooring tiles.
A NATIONAL TILE INSTALLATION SERVICE IS AVAILABLE - PLEASE ASK ABOUT PRICE AND AVAILABILITY.
Read More
Garage Floor Tiles - Additional Information
Best quality virgin PVC with a 10 years warranty
Creates an attractive, dust-free, insulated and more comfortable garage environment
Easy to clean - sweep and mop
100% recyclable with a projected life span of 20 years
Odour free, unlike cheap recycled products
Virgin PVC provides the best appearance, durability and stability.
Larger size for fast coverage. A true 50cmx50cm tile - exactly 4 tiles per square metre
Unaffected by automotive fluid spills
Tight-fitting interlocking joints
Loose laid - take it with you if you move
Easily cut with wood-working hand tools
You do not need any floor laying experience, the tiles are tapped together using a rubber mallet. Cut the tiles up to walls or fixed points leaving a 5mm gap for expansion. Please note, dark colours such as graphite or black are best used where car tyres will sit.
Ideally please ask for a quotation that takes into account trimming wastage to save finding yourself short of tiles. If preferred an installation service is available, please ask for a quotation.

A Little Technical Information:-
Fire Performance - tiles do not support combustion and achieve Class 1 spread of flame when tested to BS 476: Part 7
Colour Fastness/Resistance to natural light: EN 20105-B021 - 5 (no damage)
Resistance to Hot Objects/Solder - Good
Anticipated Service Life - 25 years +
Weight 9kg/m²
Back to the Top
Garage Floor Tiles and Garage Cabinets Time Lapse
Proven in Arduous Workshop Applications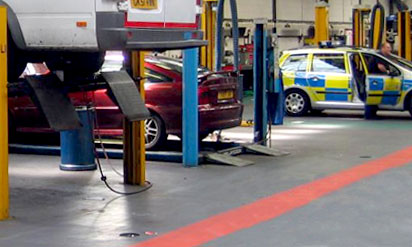 Testimonial
05/01/2018 
A very efficient and professional service from placing our order through to delivery. A very well made product. Would highly recommend and, as this is the second time we have used your Company, we would not hesitate in using you again.