Only the best quality steel cupboards for garage or office storage.
High shelf load capacities - typically 75kg
Multiple colours available on selected products
All fully locking for security
Fully manufactured - no self-assembly
Delivered on pallets ready for use
Storage Cupboards in Steel - For Home or Business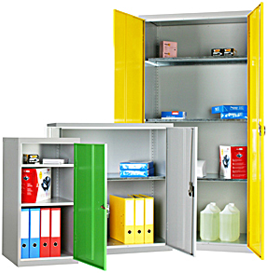 Various strong cupboards for garage storage, office stationery or heavy industry storage. Fully manufactured in steel, delivered ready to use.
All our steel cabinets are fully manufactured and delivered ready for use in your garage, office or business.
The majority of our cupboards are derived from industrial products and as a result are strong and durable to ensure complete customer satisfaction. They have high quality anti-bacterial powder coatings, rigid metal reinforced doors, and adjustable height shelves.  Welded and reinforced construction ensures a solid, safe and secure cupboard capable of carrying high loads.
Read More
More about our storage cupboards
GaragePride's steel cabinets are perfect for storing a multitude of items safely and securely out of site behind attractively coloured doors. They lend themselves to a huge range of storage needs including office equipment and consumables, industrial instrumentation, office files and of course everything to be found in a typical residential garage that needs tidying away.
Our steel storage cabinets provide a huge range of secure and spacious storage options for residential garage storage, utility rooms, offices and industry. Over 180 colour and size combinations are available ensuring that there is a cabinet available to meet every customer need and taste. The industrial powder coating is robust and scratch-resistant whilst resisting bacterial growth to help ensure a clean and healthy environment.

Shelves are can be adjusted to provide various storage heights and can each carry a 70-75Kg load with a large margin of safety. Additional shelves can be specified either at the time of purchase or later on if required.

The tough reinforced doors feature high quality handles with integral locks to ensure security where necessary.
Back to the Top