Garage Interior Design Service
Take the guesswork out of choosing what will work for you. A complete garage makeover involving cabinets, StorePanel and floor tiles can be visualised in a 3D render. 
We will glean as much information as possible from you by telephone consultation and then, depending upon the extent of your requirements, will ask you to submit several interior photographs and a sketch of your garage marked up with the principal dimensions. We may send you a form that you can complete at your leisure that will provide you with further food-for-thought.
This simple procedure helps us to provide you with a design proposal within a matter of days following your initial enquiry which can then be refined as you really begin to understand how your new garage space will look.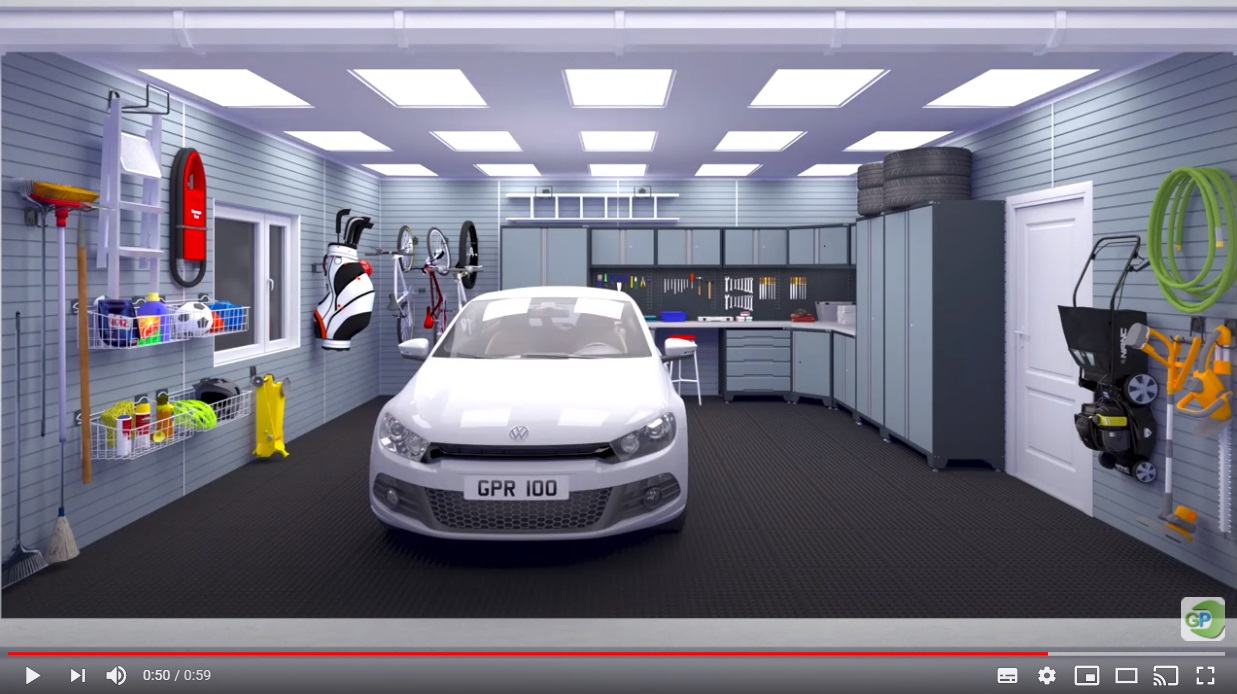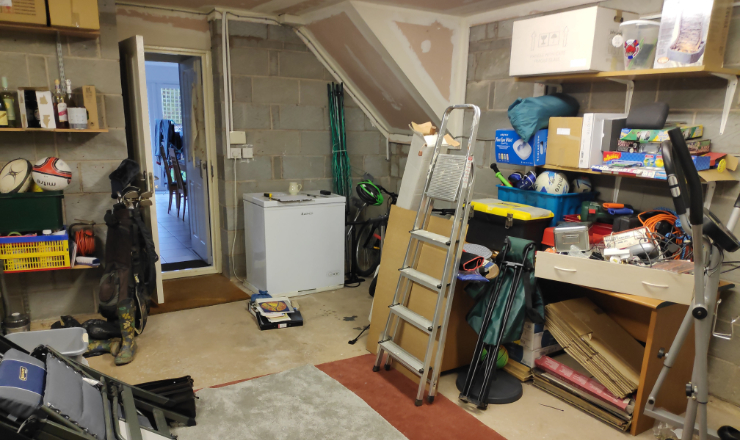 Does this look familiar?
The garage is all too often overlooked as a potentially useful and pleasing room. Sorting out your garage with good quality steel storage cabinets, by laying attractive automotive PVC tiles and utilising the walls for storage, transforms it into a useful and more welcoming space adding value to your home. The above is one of several photographs submitted by a prospective customer.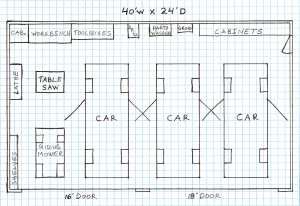 Let us see your ideas
It will help us get it right first time if you can provide as much information as possible. This would include as many principal dimensions as possible and your own thoughts on cabinets and wall storage positions. If it's a new build garage or workshop then a PDF of the architect's plans can be helpful allowing us to scale off dimensions. The above is a sketch submitted that specified cabinet and workbench positions.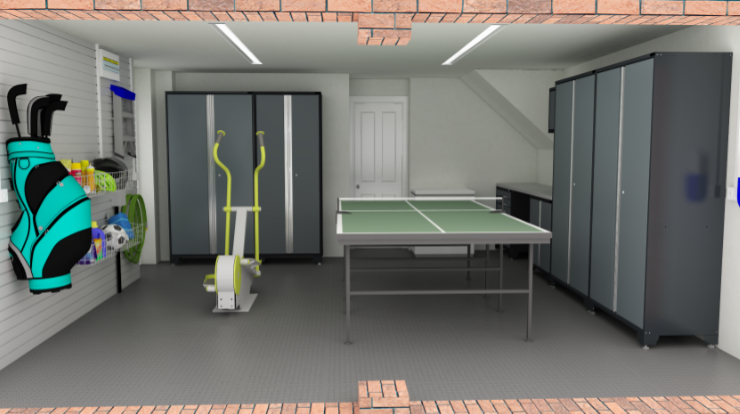 Rendered layout proposal
Once we have understood your requirements in as much detail as practical then we will use CAD software to design the interior and rendering software to present your ideas to you in 3D photographic style. This customer required GaragePride EvoLine cabinets, PVC floor tiles and the walls to be fully clad with StorePanel. It was to be used for recreational purposes as well as for storage.
Project complete!
Compare the picture above of the completed garage with the "before" picture far left. Our customer sent photographs and dimensions and we entered into a telephone consultation exercise to refine the requirements. A design proposal was submitted and agreed after a couple of iterations. In this case we provided an installation service fully cladding the walls with StorePanel.
Request a free no obligation design proposal
Please give us a call to discuss your project
Case Studies
This is an example of a commercial project we completed that involved a detailed site survey, design submissions and the provision of an installation service.
ENGIE is a leading energy and services company focused on three key activities in the UK: production and supply of energy, facilities management and regeneration. The company enables its customers to embrace a lower carbon, more efficient and increasingly digital world. First Hydro Company operates Ffestiniog and Dinorwig Power Stations in North Wales. The two facilities offer critical back-up electricity during periods of excessive demand on the national grid system.
ENGIE approached GaragePride and after an initial meeting with Bott and the teams at ENGIE's pumped storage plants in north-west Wales, the facilities' needs were scoped and specified.
The team at ENGIE were looking to achieve a hard-wearing workshop set-up that would uphold a safe working environment for employees.