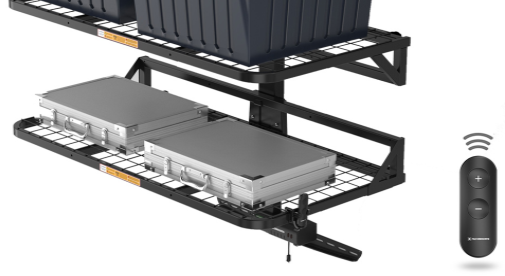 MotoStor™ Motorised Safety Shelves

Store items higher up on walls safely - no step ladders, no stretching, no lifting. Motorised shelves do the work. Increase storage and safety in your garage, office or business (items pictured on shelves not included).
Unique to GaragePride in the UK, MOTOSTOR™ makes maximum use of higher walls for storage but removes the need for unsteady step ladders and heavy lifting.
► Make maximum use of higher walls for storage - safely! (suggested minimum ceiling height - 2.75 metres)
► A remote controlled, high quality motor raises the shelves
► Step back and watch heavy items lifted to the ceiling
► No more wobbly step ladders, stretching and lifting
► Quick and easy DIY installation. Fix to brickwork or studding
► Maximum load - 75Kg. Overloading protection built in
► Remotes can be coded to shelf for multiple unit operation

Save
10%

MOTOSTOR™ Lifting Shelves.

Make maximum use of higher walls for storage, safely. Let the motor do the lifting. Two large shelves, 118cm wide x 60cm deep. Mains powered via 13amp three pin plug.

Motorised lift shelving. Higher, safer storage in garages, office or business (items pictured on shelves not included). Also an invaluable aid for wheelchair users.

 

Special Price

£314.10

Regular Price

£349.00