At GaragePride, we take great pride in our extensive range of garage doors, carefully curated to meet a diverse array of requirements, styles, and spaces.
Our commitment to customization allows us to tailor every detail to perfectly align with your specific needs, ensuring a truly personalized experience. Our unwavering focus remains on delivering solutions that are built to last, seamlessly combining durability, value, and exceptional quality. With an emphasis on efficiency, our goal is to make everyday tasks more convenient and hassle-free.
When it comes to garage doors, we embody this commitment by offering a blend of security, thermal efficiency, and safety, all while providing an extensive selection of styles to choose from. Whether you have a particular design preference, color scheme, or finish in mind, our wide range of options is sure to complement your unique tastes. From the timeless elegance of a classic Georgian aesthetic to the sleek modernity of a contemporary look, or even the warm allure of an automatic wooden door, we have the perfect solution for you. Whether you envision a large or narrow rib design, an up-and-over configuration with a metallic finish, or an architect-grade sectional or side-hinged door with integral windows, the possibilities are truly limitless.
Need help? Call us on 01743 742028.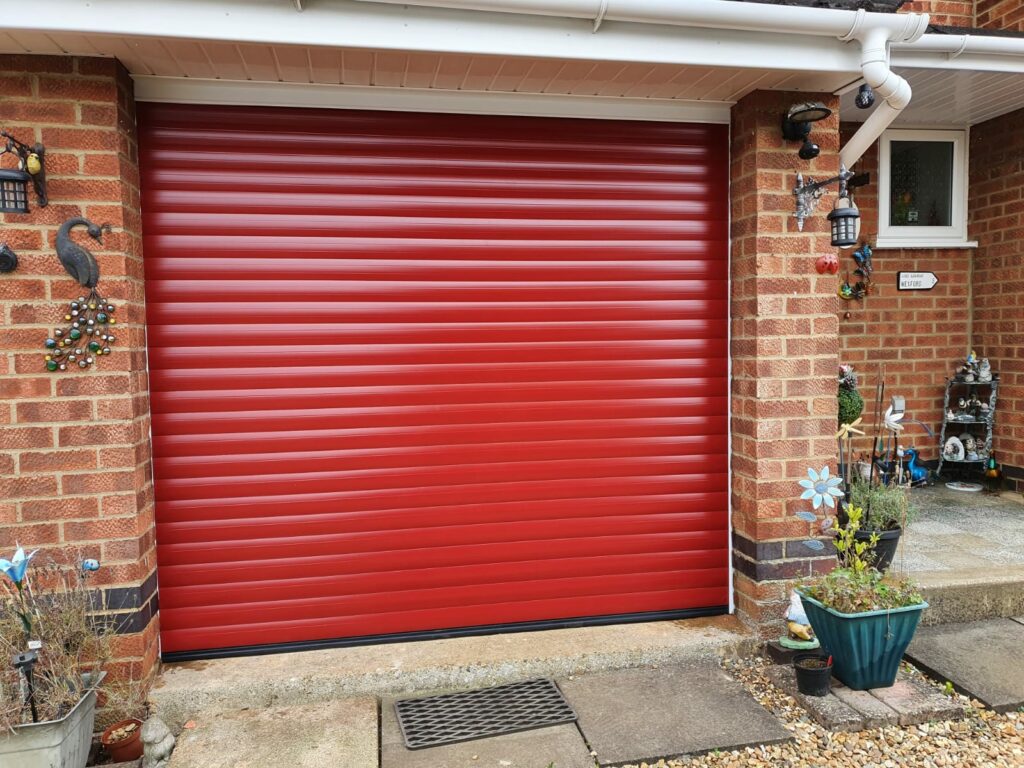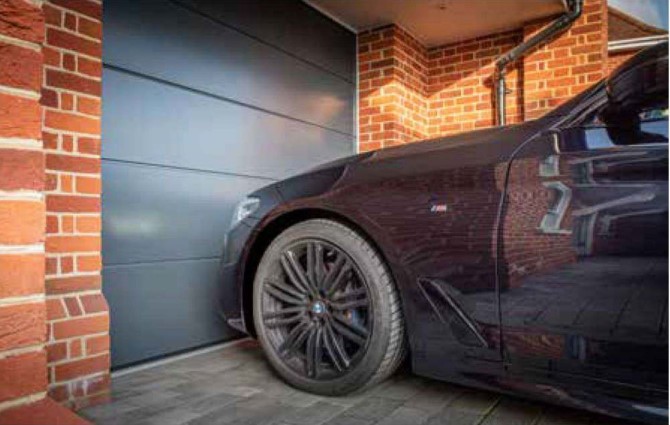 Sectional Doors
Welcome to Novoferm's selection of sectional garage doors, where innovation meets functionality for a seamless garage experience. Our sectional garage doors are intelligently designed to maximize space while providing exceptional insulation and noise reduction. Let's explore the key aspects that make our doors stand out:

• Space-saving vertical opening mechanism: The individual sections of our sectional garage doors are raised vertically and guided along tracks, allowing them to retract smoothly into the garage. This ingenious design ensures that the doors do not swing outward, maximizing the available space at the front of your garage. You can now make the most of every inch, both inside and outside.

• Superior quality and insulation: We take pride in manufacturing our sectional doors using top-notch materials, guaranteeing long-lasting durability and functionality. Each door is equipped with a built-in layer of insulation, which plays a crucial role in maintaining a comfortable environment within your garage throughout the year.

• Optimal temperature regulation: Our insulated sectional doors excel in temperature regulation. During the winter, the insulation helps retain warmth and keeps your garage dry, while in the summer, it provides cooling benefits. By efficiently controlling the temperature, our doors contribute to lowering energy consumption and reducing associated costs.

• Reduced noise levels: Say goodbye to the clatter and noise! The insulation incorporated into our sectional doors aids in dampening external sounds, creating a quieter and more peaceful garage space. Enjoy working in your garage or spending time there without distractions from the outside world.

Discover the perfect combination of functionality and energy efficiency with Novoferm's sectional garage doors. Make the most of your space while enjoying the benefits of superior insulation and noise reduction. Experience the convenience and comfort of our innovative garage doors today.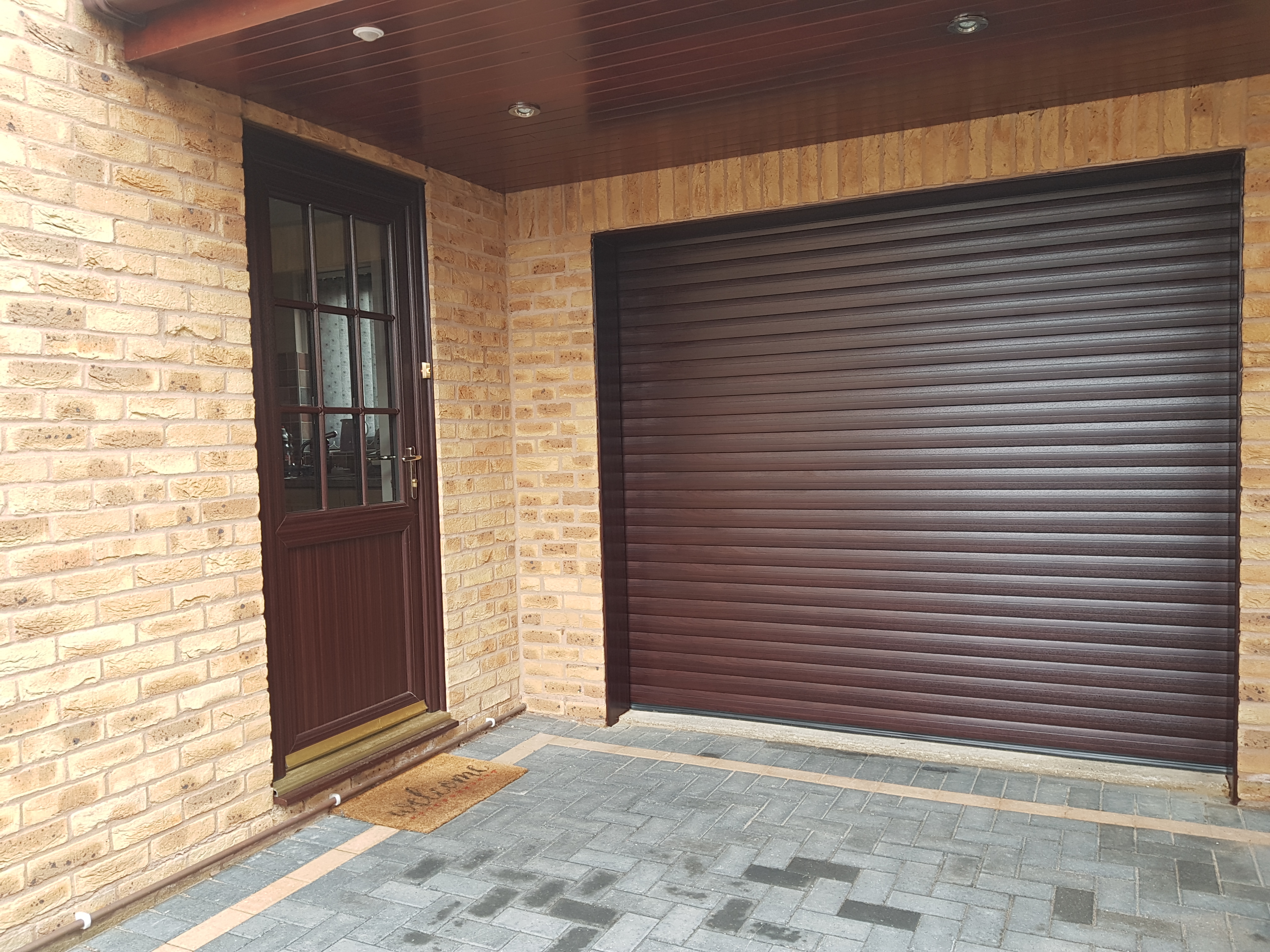 Roller Shutter Doors
Introducing Novorol Roller Shutter Doors: Space-Saving and Convenient Garage Solution

Welcome to Novoferm's innovative range of Novorol roller shutter doors, where convenience and space-saving design combine to transform your garage experience. These doors offer a host of features that make them stand out:

• Space-saving vertical lift: Unlike traditional garage doors, Novorol doors lift vertically and roll into a compact box at the head of the garage door opening. This design creates more space in front of the garage, allowing you to park closer to the door, making it ideal for shorter driveways.

• Extra room inside: The Novorol's unique design not only saves space outside but also creates additional room inside the garage. You can utilize this space for storage or any other purpose you desire.

• Customization options: Novorol doors are available in various colors and finishes, allowing you to choose the perfect match that complements your home's aesthetic.

• Natural light with vision laths: If you prefer a brighter garage, the Novorol door offers vision laths that allow sunlight to enter, creating a welcoming and well-lit environment.

• Safety certified: Safety is a top priority with Novorol roller doors. They are certified to meet EN12453 safety standards and come equipped with NovoShield and a safety edge as standard features. You can trust that the door operates smoothly and securely, giving you peace of mind.

In summary, Novorol roller shutter doors provide an efficient and space-saving solution for your garage. With their vertical lift and roll-up mechanism, they not only offer convenience and flexibility but also maximize available space. Whether you prioritize functionality, aesthetics, or safety, Novorol doors have got you covered.

Upgrade your garage with Novorol roller shutter doors today and enjoy the perfect blend of convenience and innovative design.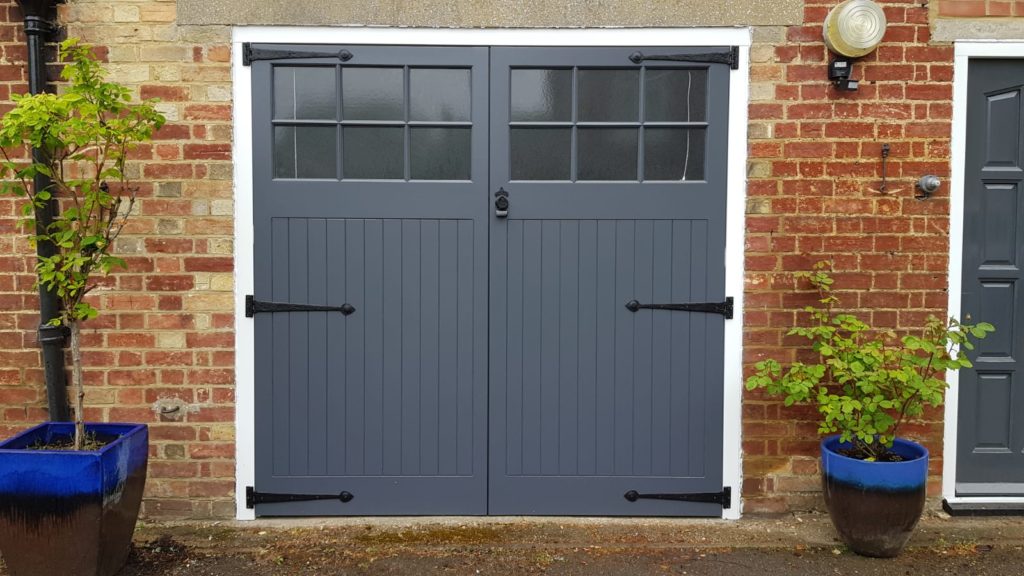 Side Hinged Garage Doors
Discover the Versatility of Side Hinged Doors: Traditional Operation with Added Benefits. Our side hinged doors offer a range of advantages for your garage:

• Traditional Operation: With their traditional operation, these doors provide a timeless and classic appeal, making them an ideal choice, especially when there are obstacles within the garage.

• Excellent Security: Our side hinged doors are constructed with high durability, ensuring long-lasting and trouble-free service while also offering excellent security for your garage.

• Insulated DuoPort® Option: For those seeking insulation, our Insulated DuoPort® side hinged doors consist of two doors that open in a "barn door" style, providing enhanced thermal efficiency.

• Flexibility in Configuration: You have the option to split the doors evenly with a 50/50 configuration, and you can choose whether the doors open inward or outward, adding to their versatility.

• Customizable Styles: Our Insulated DuoPort® side hinged doors come in various patterns, surfaces, and colors, allowing you to personalize them to match your preferences and complement your home's aesthetics.

• Utilize Your Garage Space: The Insulated DuoPort® leaf doors offer the opportunity to use your garage as a utility room or space for leisure activities and hobbies, giving you more functional options.

• Convenient Entry and Exit: You can choose to open both doors for full access or just the active door for quick entry or exit, providing added convenience in daily use.

• Expand Your Possibilities: The Insulated DuoPort® range allows you to customize your side hinged doors according to your desired style and usage requirements, opening up a world of possibilities for your garage.

Upgrade your garage with the versatility and practicality of our side hinged doors today and enjoy a seamless and functional garage experience with added benefits.
Up and Over Doors
Discover the Uniqueness of Steel Up and Over Garage Doors: A Classic Choice with Added Versatility

Our wide selection of steel up and over garage doors presents a classic choice that effortlessly combines timeless design with modern versatility. These doors operate by kicking outwards and sliding upwards along a track on the ceiling, providing a simple yet effective solution for your garage entrance.

Key Features of our Steel Up and Over Garage Doors:

• Exceptional Quality and Longevity: Crafted from premium grade galvanized steel, our doors are carefully prepared to ensure maximum durability and resistance to various weather conditions. The incorporation of multiple spring assemblies enhances their sturdiness, providing a reliable and smooth operation.

• Optimal Flexibility: We offer a range of size options to suit your garage's dimensions, accommodating different garage openings. Sizes range up to 4877mm x 2286mm, providing ample choices for various requirements.

• Customizable Designs: To enhance both functionality and visual appeal, we provide a range of designs, colors, and finishes to match your home's aesthetic. Whether you prefer a traditional look or a more modern style, we have the perfect match for you.

• Convenient Euro Handle: Our steel up and over garage doors come fitted with a black euro handle as a standard feature, providing convenience in operation and adding to the door's overall aesthetic charm.

• Safety First: Just like our other doors, safety is a top priority. Our steel up and over garage doors are constructed to ensure smooth and secure operation. Whether you choose manual operation or opt for automation, you can have peace of mind knowing that your garage is equipped with a reliable and safe entrance.

Upgrade to GaragePride's steel up and over doors and discover the difference today.
Contact Us
Need a hand? Call us on 01743 742028.
Case Studies
GaragePride specializes in providing high-grade garage doors and professional installation services across the East of England. We are committed to delivering top-quality products that stand the test of time, offering better long-term value compared to cheaper alternatives.
Why Choose GaragePride?
Unmatched Quality: Our focus on delivering the best quality garage doors ensures longevity and durability. Unlike low-cost options that compromise on design and manufacturing, our doors are built to last.
Extensive Experience: With decades of experience in supplying and fitting garage doors, we have gained valuable insights into what makes a garage door truly exceptional.
Value Over Price: We believe that value matters more than the initial price. Investing in a high-quality garage door will save you money in the long run through reduced maintenance and replacements.
Peace of Mind: Our commitment to quality workmanship is backed by a 5-year guarantee on our fitting services and product warranties of up to 10 years.
Diverse Style Choices: We offer a wide range of style options to suit your preferences. Whether you desire large or narrow rib designs, classic Georgian panels, contemporary styles, natural wood cedar doors, or architect-grade sectionals with integral windows, we have the perfect match for you.
Enhanced Security and Safety: Our garage doors provide not only an aesthetically pleasing look but also enhance security, thermal efficiency, and safety features.
When you choose GaragePride, you can expect excellence, reliability, and exceptional service. Let us help you find the ideal garage door that complements your home's style and adds value to your property.
Experience the GaragePride difference - Get in touch with us today!