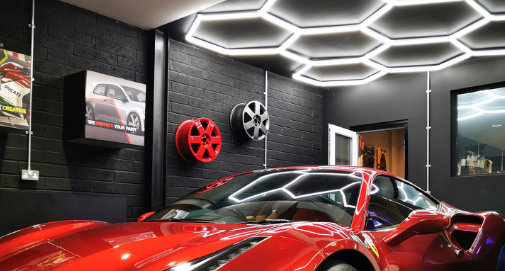 Product Specification
Emitting Colour: White
8 AMP
Lamp Luminous Flux (lm): 110-120LM/W
Power: 6w 575 mm - 8w 440 mm
Voltage: AC 100 - 230 Volts
Colour Rendering Index: 90
Correlated Colour Temperature: 6500K Daylight
Working Temperature: - 20 - 40
Working Lifetime: 60000 (Hours)
Light Beam Angle: 180 Degree
Small Hex Dimension: 840 x 965 - 37mm D 20 mm W
Large Hex Dimension: 1050 x 1220 - 37mm D 20 mm W
Grid Size: Custom
Garage lighting - Brighten up your space in a spectacular way using EVOlight.
Make your space unique with our honeycomb grid lighting system. Eye-catching LED garage lighting in stock ready to dispatch. Easy to install, plug and play design.
Customisable, modular garage lighting to suit your desired bespoke shape. With our 'Y' and 'V' connectors, plug and play design makes for an easy installation. A sleek contemporary style that will make an impact and turn heads.
Suitable for an array of environments such as home garages, workshops, gyms, shops, beauty salons and more. Avoid traditional garage lighting with our energy saving led garage lights, save up to 70% energy from your traditional lighting source.
Our garage lighting is made from light weight aluminium and polycarbonate diffusers making it easy for DIY. Choose from a variety of ways to shape your lighting with our honeycomb or hexagon shapes or draw something new and exciting all together with our straight connectors. Once you have your desired design it can easily be mounted directly to a wall, ceiling or even suspended.
Colour temperature range 6500k is perfect to produce a beautiful and warm atmosphere. Attractive to people and looks great when shining on vehicles or just without.
We have a variety of kits to choose from but if you have your own design in mind, then please don't hesitate to contact us from our 'contact us' page. Other size packs and bespoke orders also available on request.
Please see below a variety of kits designed around your typical sized garages.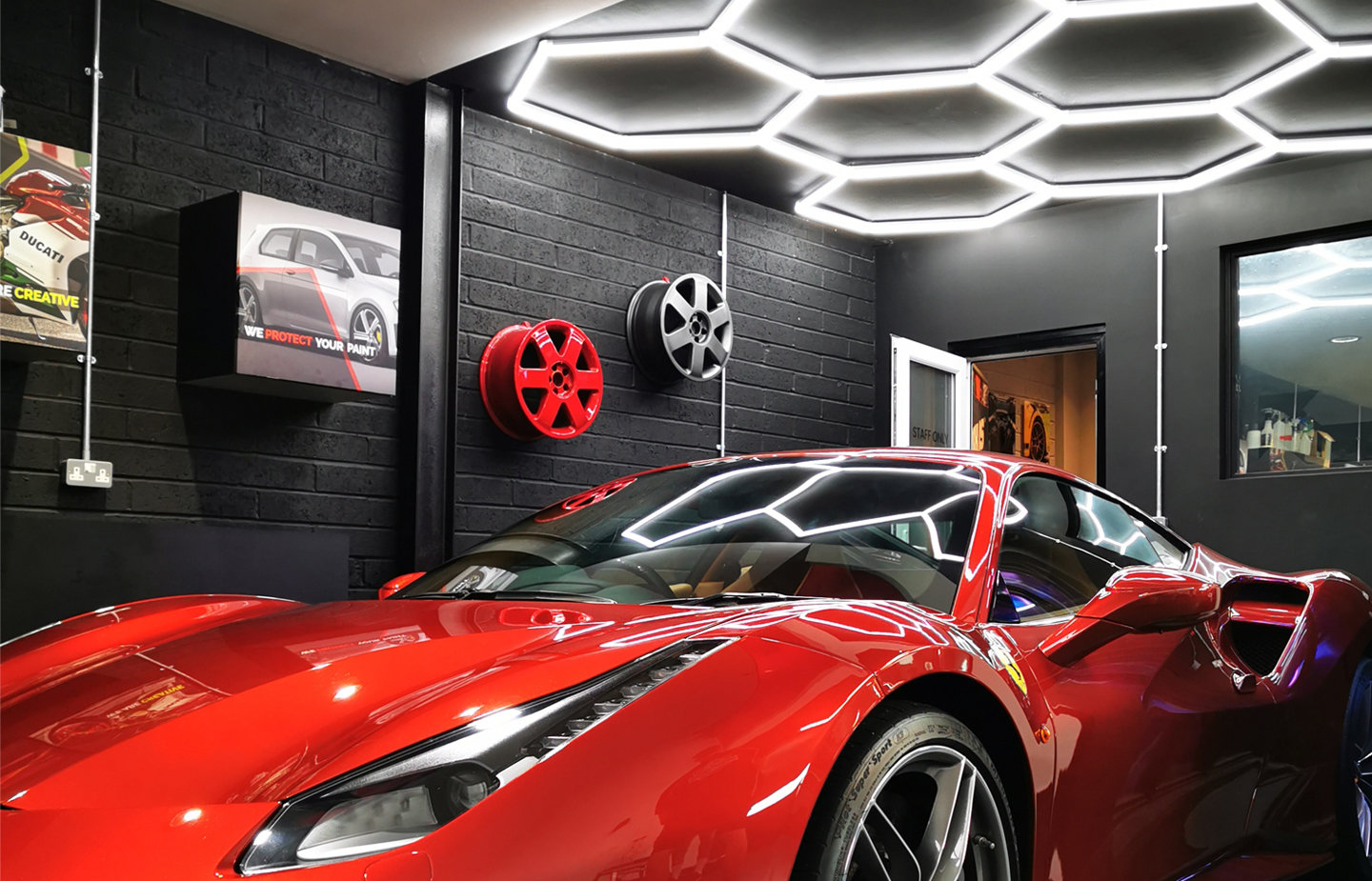 UK Stock

Fast Delivery

Easy To Install

5 Year Warranty

Customisable (please contact us)

RGB System Available

Quality parts & accessories
Read More
When it comes to purchasing lighting systems, the old saying holds true: "Buy cheap, buy twice." At GaragePride, we are dedicated to offering nothing but the best, which means we exclusively sell high-quality products. It's all too common to come across knockoffs that attempt to imitate a quality product. While these imitations may appear similar on the surface, they are often poorly constructed using the cheapest materials and show signs of subpar manufacturing.
In contrast, our EVOlight lighting system stands head and shoulders above the rest, and its superiority is evident. We have spared no effort in designing a lighting system that outshines the competition. By investing in our reasonably priced EVOlight system, you can be confident that you are getting a product that surpasses cheap alternatives in terms of quality, performance, and longevity.
When you choose our EVOlight lighting system, you reap a multitude of benefits. Firstly, it offers exceptional durability, ensuring that it stands the test of time even in demanding environments. Unlike cheaper alternatives, our system is built with high-quality materials and superior craftsmanship, guaranteeing reliable functionality and resistance to wear and tear.
Back to the Top