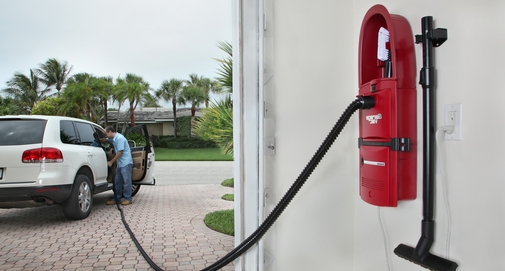 Car Vacuum Cleaner, Garage Wall Mounted - GarageVac
A Convenient, Powerful and Stylish Car Vacuum
The GarageVac car vacuum tackles even the most ground in dirt and dust.
Wall-mounted for convenience, it's ready to go, with a range of tools in a holder and wall bracket. The hose stretches out to 12 metres, and the 1300 watt twin fan motor operating at 25,000 RPM ensures maximum suction.
Seven tools are provided, including a soft brush for the dashboard and a flexible crevice nozzle.
This vacuum cleaner power unit comes with an unusually long 6 year warranty.
Read More
Save
9%

Garage Vacuum in Black GV220B

The wall mounted model GV-220B GarageVac saves valuable floor or wall space and keeps the vacuum tools at your fingertips. You won't lose any tools or misplace the hose everything is in one spot ready to clean.