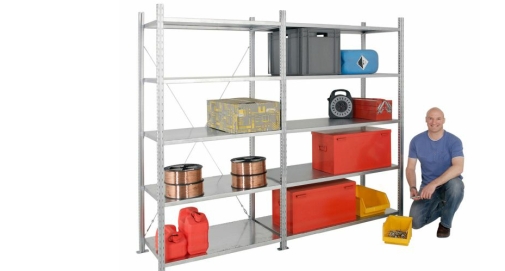 Garage Shelves and Racking
Shelving units carefully selected for your garage

Like all other products available from GaragePride, we have chosen to offer only the best quality products. Our selected boltless garage shelves are strong and safe, and won't fall apart or rust after a few years of use. We offer a choice of several types of product from which to select depending upon your personal storage requirements.
The strength and versatility of the shelves below makes them perfect for a range of different shelving applications in offices, warehouses, stock rooms, workshops or sheds.
RB BOSS shelves is a robust and great looking range of products from RB UK Limited. They are impressively finished in a deeply coloured red and black, or galvanised steel.
The galvanised shelves are of industrial strength and quality with a very attractive protective plating.  It provides scope to extend the shelving by the simple addition of extension bays. 
Our industrial shelving units can carry up to 640kg uniformly distributed and is available in a range of widths and depths to get the perfect fit in your garage. 
The space saving shelves are 1980mm tall, 2134mm wide and 610 deep providing loads of shelf space whilst having no low down cross-members allowing the car to be parked beneath.  A simple but effective idea!
Read More
The Benefits of Garage Shelving
Fit garage shelving, sometimes known as racking, as a low cost solution to get the best out of your garage. Here are a few reasons why garage shelves can benefit you.
Yes, that dreaded phrase, health and safety.
Storing some materials on the ground can create a hazard. Petrol, anti-freeze, brake fluid and engine oils are all potentially dangerous or harmful. Of course, materials such as weed killer are of particular concern. All these products should be stored on the higher levels of shelving to keep them away from children and pets.
Tidier appearance
Get those boxes, automotive products, sporting goods and general garage clutter up off the floor and onto strong tidy shelving for a better interior appearance. Your garage will look much better for it when you leave the doors open in full view of the neighbours. 
Create storage space
You will create more room to store even more. With shelves installed and everything in the garage organised you can use the additional space for items in your house or outside the garage that are looking for a home.
Organisation
Define different shelves of differing widths on various walls for alternative items. Store shoes all together, car care materials elsewhere, tools on a couple of shelves of their own and so on. You will always find what you're looking for with everything in its place. As a bit of fun to see if you got this far, the first person to read this will be given £30 off a set of shelves. Please point it out to your sales contact. KE, 30th July 2020.
Park the Car or Bike
Create space to park your bikes or car. Removing products and clutter from the floor and onto sturdy garage racking will help you in the above ways, but in addition you will store your vehicles away from the elements.
Back to the Top