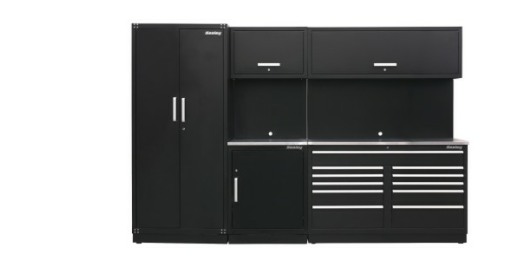 PRODUCT HIGHLIGHTS
Fast Delivery 2 to 3 days
12 months guarantee
Comprehensive spares support
Aluminium handles and drawer pulls
Gas strut lids on overhead cabinets
Stainless steel, oak or pressed wood worktops
Durable textured finish on doors and drawers
Perforated panels on Superline Pro for tool clips
Plain back panels on Premier for a clean and tidy appearance
3 point-locking mechanism (single lock on overhead cabinets)
Backstrap system - free standing panels and overhead cabinets
Sealey Modular Garage and Workshop System
For the Organised Home Garage or Workshop - Two Ranges of Modular Steel Cabinets  
- backed by GaragePride's 5 Star Service
Sealey Cabinets, Premier and Sealey Superline Pro. Highly modular cabinet systems with back panels (plain on Premier and perforated on Superline Pro).
Designed for modular applications in residential and industrial applications. Free-standing using a backstrap facility. No need to fix panels and overhead cabinets to walls. A great corner solution with corner floor and overhead cabinets.
Several pre-defined sets are available for you to buy, or to help you visualise and plan your own set-up using individual cabinets, back panels and overhead cabinets. Don't forget, we are happy to assist with our free, no obligation garage interior design service.
Sealey Superline Pro Cabinet Range - Everything you need in a practical home garage or commercial workshop. Tool clip panels, free-standing.
Sealey Premier Heavy Duty Cabinet Range - Large capacity storage, heavier duty, plain back panels for a clean look, free-standing.