PRODUCT HIGHLIGHTS
Suspend large items off your garage floor. Bikes, hover-mowers etc.
A wide range of hooks and baskets for gardening and sports equipment
Attach 3, 6, or 9 panels to walls, or clad the whole garage to hide the brickwork
StoreWall Installation is easy with basic DIY skills.
Attach the Install Strips
Hang wall panels onto the Install Strips
Attach accessories and store your items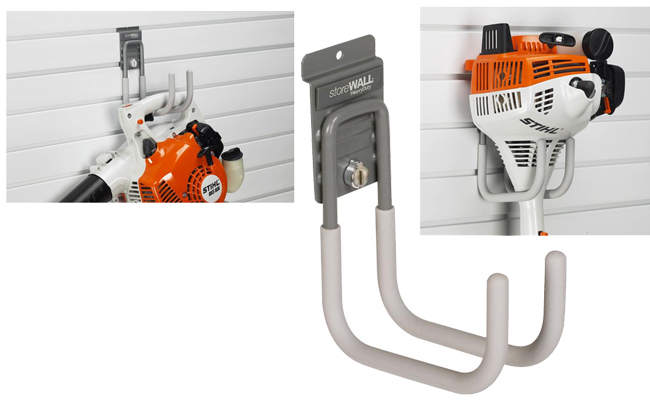 Garage Wall Storage System - Storewall
Heavy duty, decorative and durable wall panels with a range of hooks and baskets.
Our garage wall storage system provides three convenient sizes of kits for your garage or utility room allowing you to store many garden and garage items off the floor tidily, safely and readily accessible for use. Camlok hook and basket accessories ensure that they are secured to panels and cannot fall off or slide.
Read More
Each heavy duty plastic wall panel measures 2440mm x 386mm x 16mm deep and can be easily fitted to any studded garage wall surface or masonry using the Install Strips. The panels are moulded from a thermoplastic material that is waterproof and resistant to mould and mildew. As such the colour is not just surface deep and so they stay looking attractive year after year. Wall panels are available in grey or pine effect.
Using the Install Strips, StoreWall distributes the panel load to many points across the wall eliminating individual points of high stress when the panels are loaded.
Whilst not necessarily required, the Install Strips simplify the installation procedure, they provide superior security and versatility and enhance the appearance of the end result with no unsightly screw heads visible. The strips can be fixed to any surface that you will find in a conventional garage.
If required, the panels can be cut to length using standard wood working tools. Colour-matched trim strips are available to finish off panel ends, and to hide the gap between adjoining panels, ensuring a truly attractive finish to your garage wall storage.
Back to the Top