Double Garage Workshop
Double Garage Workshop are the perfect size workshop for a classic car enthusiast that wants ample space and tool accessibility to work on a classic car, as well as the floor and height for a car lift. Workshops that are double the size of a conventional garage offer the owner complete flexibility to customise the look and layout of the space. For a free 3D technical render of your next double garage workshop get in touch.
Garage Pride provide a 3D render design of your very own requirements and specifications. This helps you visualise multiple layouts of your double garage workshop space. Get in touch today to find out more. Steel garages and steel buildings are common double garage workshop size options for workshops. Send us the dimensions and we will work with you to customise a dedicated double garage workshop or larger garage interior design.
You may be looking for a double garage and workshop or a double garage with workshop plans, whatever it is, we can help you design concepts and interior design layouts with specifications for storage, workbenches, trolleys as well as garage and workshop flooring. For double garage plus workshop sizes, browse our Double Garage Workshop Gallery to see our other large scale Corporate Workshop Projects.
Double Garage Interior Ideas
Double Garage Interior Ideas can be subdivided into your particular interest. The most popular mass market layouts that we typically receive garage interior design proposal requests for are; the single garage workshop or single garage workshop layout extended backwards into the garden. These types are actually double garage interior ideas in themselves, because they form a double garage workshop in length. 
With Garage Pride's 3D render concepts and interior design proposals, any size or shape of double garage interior ideas can be worked with direct with the customer, including positioning of a car lift, as well as positioning of storage cupboards and workbenches on the double garage floor.
If you are looking to construct a double garage workshop, whilst a prefab double garage is favourable on cost and basic functionality, such a design and cost can provision a small budget for a higher specification of garage cupboards, storage, flooring, functional walls and make the garage workshop tailored to your specification with high end finishes. 
If you have a prefabricated double garage design, and are looking for a garage interior design service, Get In Touch for a free 3D design proposal.
Brick double garage construction is common in most urban housing areas consisting mainly of single garage workshops or double garage workshops. Depending on the footprint of your garage extension to your home, you may have double up and over garage doors. This needs to be taken into consideration with your double garage interior ideas.
Oak framed double garage are very popular rural double garage workshops because of the timber insulation properties and natural rustic visual appeal in the summer and the winter. Timber frame double garages are very popular for 3D render proposals, browse our Double Garage Interior Ideas Gallery or get in touch today and ask about your free 3D CAD garage design proposal.
Garage Pride also cater for double garage interior ideas for a sectional double garage. If you are constructing a sectional double garage, we can help by working with you to provide a free garage interior design if your domestic garage or workshop is over 3 meters high with a pent roof garage, or apex garage roof is over 4 metres high.
If you have a double lock up garage, then consider some Garage Shelves and Racking. Garage Pride have boltless easy to assemble garages shelves that are free-standing, strong and safe. Our galvanised shelves do not rust after a few years, perfect for your double lock up garage storage needs.
Double sided garage and garage door widths double range in all different sizes up to 16' wide depending on space available in building plans when constructed. For low height double garages built under existing floors of typical 4 or 5 bed modern homes, a double track garage door is sometimes fitted giving you limited side and headroom at the entrance. What you must do is contact Garage Pride today for a 3D render proposal of your double garage workshop interior. We will ask for all your measurements and ensure you have the best and most optimum double wide garage interior design.
The Drive thru garage is a rare gem and residential wonder if you ever spot one. Sometimes seen in a neighbour's back garden pavement-side. It might just make you double-look seeing an attached drive thru garage door both front and back of the property! Possibly also out of a train window when travelling on the railways. The drive thru garage is common for both DIY and keen car enthusiasts with long gardens who are looking to increase their garage workspace out into the back garden. 
A double width garage can be converted into a quadruple or 4 car garage space with a rear garden double width car port for shelter and extra workshop space. This offers the benefit of virtually no visual change to the back garden and can be hidden with a hedge or fence line to separate from the enjoyment of the patio and garden areas. A garage drive through doesn't affect the kerb appeal at the front of the house. There is no need to fill the garden with working sheds or lose the front lawn to convert into yet more drive-way space.
Are you looking for drive through garage ideas? Perhaps for a drive through attached garage or maybe you already have your drive through garage door fitted. Get In Touch with Garage Pride today for your drive through garage designs. We would love to hear about your drive thru garage.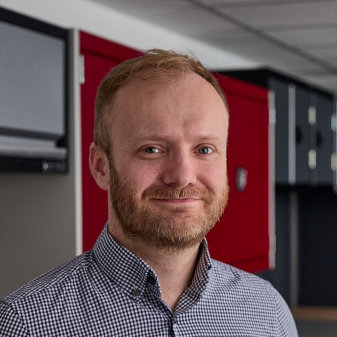 Richard Evans
Interior Design and Marketing Support
Richard uses a CAD system to create and render fantastic garage interior designs for prospective customers. He costs them out equipping Sales with everything needed to put together an exciting proposal.

He also manages the our website's content, products, prices and user experience liaising with the development company if more technical developments are required.

He monitors search engine performance and manages pay per click advertising and social media activity.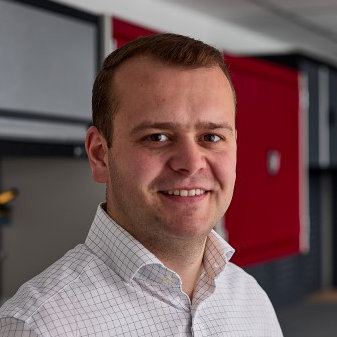 Matthew Hill
Business Development
Having previously worked in the construction and flooring industries, Matt joined in October 2022 to oversee the business development.

He now manages the sales and design team, as well as all aspects of installation projects. With plenty of experience in the industry, Matt is always happy to discuss any technical aspects of your design and advise you which solution will be best fitted for your application.
We're here to help
We are always happy to provide assistance with the selection of products on our website, and to discuss the differences between the various product options. Please give us a call.