Garage Wall Ideas
Garage wall ideas are sometimes difficult to imagine when faced with their original appearance of cold exposed brickwork with the odd bad area of mortar and cement residue, or worse crumbling mortar on old brick surfaces. 
Even on new-build garages, there is no passion with the brick and cement finish with walls feeling abandoned and unfinished. Garage Pride have an entire garage interior design process that specialises in wall ideas, whether this is for visual appearance benefit, or a hybrid wall slatted functional shelving system.
Garage Pride have some great garage wall ideas for ultra-affordable cheap garage wall ideas. Take a large pot of white or light grey paint and a day of DIY can result in a complete transformation of your interior garage walls. It will provide a new fresh clean surface to perhaps hang up some garage wall art of your favourite car or ride. These are just some of our cheap garage wall ideas – mission accomplished!
Garage Pride specialise in the ultimate interior garage wall ideas with customers seeking visual enhancements to their massive garage 
More traditional inside garage wall ideas are pegboard garage wall ideas and plywood garage wall ideas. These can be easily and affordably modernised with Garage Pride's StorePanel Slatwall Storage. For smaller garage owners who wish to use the height in the garage to regain floor space, we have Hi-Lift Shelving MOTOSTOR. This type of motorised garage storage is perfect for those wishing to maximise their garage floor space and more body friendly, so no more lifting required or awkward unsafe lifting of tools and paints to high garage shelves. The bonus of these types of motorised storage systems are the newfound floor space for cars, a motorbike collection or sports equipment. 
For a free 3D CAD garage design proposal, Get in touch today. All types of garage workshop and outbuildings can be 3D modelled. Send us over rustic garage wall ideas and we can send you some before and after photos with no obligation.
Corrugated metal garage walls originally built for their durability and corrosion resistance may be a more affordable way to cover exposed brickwork garage walls, however, offers little ability to make these types of wall functional or more attractive and less industrial. Corrugated metal garage walls ideas can be featured in Garage Pride's 3D CAD garage design software for a visual proposal, Get In Touch today to find out how we can help.
Cool garage wall ideas from Garage Pride include our impressive range of stainless-steel designer cabinets and workbench storage. You need a lot of imagination to visualise these impressive DIY garage wall ideas and these garage wall ideas cheap/expensive are all down to your preference and price point.
There are more garage wall ideas other than drywall, browse our Garage Wall Ideas Gallery to see other happy customer garage transformations or run your next garage wall ideas past us by contacting us now.
Garage Wall Cladding
Garage wall cladding is the answer to any old period or unfinished garage wall that you want to modernise and make a completely functional hanging system rearranging your hanging system without the need for wall plugs, screws and random hooks. Garage Pride's Wall Storage System empowers you with no DIY skills to dress your hanging space with any combination of single hooks, heavy duty utility hooks, cradle hooks, deep basket and shallow basket hooks on your new StorePanel Slatwall Storage system.
Internal garage wall cladding is the modern day answer to a tidy almost shop or store front internal appearance that gets all your belongings such as bikes, golf clubs, tools, helmets, tennis rackets off the garage floor and a new dedicated home hanging space that looks smart, tidy and organised for your garage internal wall cladding.
Internal garage cladding is the best and most modern way to have an entire wall of hanging space with hanging brackets in any configuration you want at any time. If you are looking for garage wall cladding ideas and would like to visualise what your garage wall cladding will look like, Get In Touch now and ask for a free 3D render proposal with no obligation.
Cladding a garage wall with Garage Pride's StorePanel Slatwall Storage offers an incredibly versatile not only gives your garage wall cladding a smart visual appearance that is rain and waterproof when the garage doors are open but can be wiped clean easily. This garage wall cladding is also strong enough to hang heavy items such as bicycles and golf club bags lifting it all off the floor freeing up much needed space for a more minimalist look and feel.
Interior garage wall cladding is made easy with StorePanel Slatwall Storage and almost gives an appearance of a wood cladding garage wall similar to a laminate house furniture. If you would like to see a 3D render of your garage with garage wall cladding, let us know your garage wall measurements and get in touch now.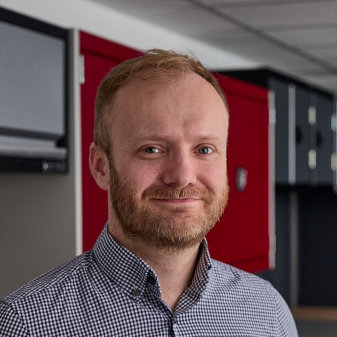 Richard Evans
Interior Design and Marketing Support
Richard uses a CAD system to create and render fantastic garage interior designs for prospective customers. He costs them out equipping Sales with everything needed to put together an exciting proposal.

He also manages the our website's content, products, prices and user experience liaising with the development company if more technical developments are required.

He monitors search engine performance and manages pay per click advertising and social media activity.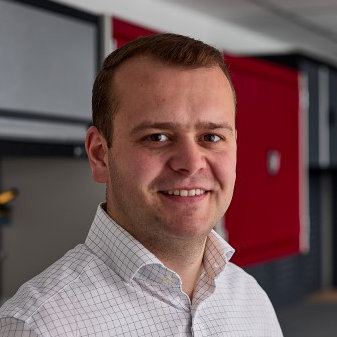 Matthew Hill
Business Development
Having previously worked in the construction and flooring industries, Matt joined in October 2022 to oversee the business development.

He now manages the sales and design team, as well as all aspects of installation projects. With plenty of experience in the industry, Matt is always happy to discuss any technical aspects of your design and advise you which solution will be best fitted for your application.
We're here to help
We are always happy to provide assistance with the selection of products on our website, and to discuss the differences between the various product options. Please give us a call.