Interlockable Floor Mats
Interlockable floor mats are the ideal flooring solution for anyone spending time on their feet in an environment on a hard floor such as a home gym, garage or workshop. The visual and aesthetic benefit of interlockable floor mats is the car showroom style finish that makes any car look superb. If your workshop or garage has a flaky paint surface having stood the test of time or in poor condition, then it is time for an upgrade to Garage Pride's interlockable floor mats.
Some garages and workshops are co-habiting workshops, storage and garage gym conversions. The addition of interlockable floor mats in a garage gym or workshop is ideal for vibration reduction and tear resistance that you commonly get with cheaper foam tiles. The Garage Pride EVOtile interlockable floor mats are the perfect strength and durability for cars, use of car jacks and engine hoists.
Our 7mm optimum thickness interlocking mats provide a great working environment to carry out car repairs, car modding, classic car lovers and classic car enthusiasts and offer a flooring solution that is unaffected by automotive fluid spills. Perfect to lay easily, as can be fitted using simple wood-working hand or power tools.
Browse our interlockable floor mats gallery or read what our other customers have said in our interlockable floor mats testimonials. 
Garage Pride's range of interlocking mats is also popular for garage gym conversions. Home garage gyms should be a relaxing and ambient environment. Our interlocking gym floor mats are so comfortable under foot and ideal for cross fit training, Yoga, Pilates, cardio and free weights exercising. These jigsaw floor mats are easy to assemble and require no adhesive. Our loose lay virgin PVC tiles can be cut to fit in around the edges using wood-working hand tools. We offer a jigsaw floor mats tile laying kit for ease of fitting, useful if you have a large workspace or garage. 
Interlocking Garage Floor Tiles
Interlocking garage floor tiles are the latest, fastest upgrade trend to transform your garage floor into an impressive new colour interior. Say farewell to your dusty old concrete garage floor with our recommended and best interlocking floor tiles for garage and workshop applications.
The Smooth Texture EVOtile is our best range of smooth interlocking garage floor tiles boasting a great 8+ colours available for checkered, logo impregnated, or colour featured design. Perfect for the parking of cars, bikes, this range of interlocking garage floor tiles provide a great balance and design contrast between Garage Pride's cabinets and modular shelving. 
The other highly popular range of interlocking garage floor tiles is the Raised Disk Texture EVOtile. This range of modular interlocking garage floor tiles has a little more grip with the top surface raised disk feature. These interlocking mats have a projected lifespan of 20 years, with all Garage Pride's tile ranges having tight-fitting interlocking joints.
The garage interior design benefits of interlocking garage floor mats have also been re-purposed to become an area for gym equipment. The Garage Gym has become increasingly popular in recent years, for those looking for an additional or personalised working out space, to achieve their own fitness and strength body toning goals in the comfort of their own garage or workshop.
Interlocking gym floor mats can also have a full attractive and functional finish in the form of tile ramp edging, making them ideal for island style matted garage gym areas. Garage Pride's PVC ramp edge tiling gives that perfectionist look and feel to island gym areas on a large garage or workshop area. 
If you have a small or large garage, workshop or garden room and browsing for interlocking gym mats or interlocking mats for your next makeover, we urge you to get in touch and request your free 3D CAD proposal which is a technical planning and visualisation of your potential garage and workshop layout. We can provide and recommend your preferred coloured and textured shortlist of interlocking garage floor tiles and interlocking gym floor mats.
Interlocking Garage Floor Tiles UK
Interlocking garage floor tiles UK and nationwide, are Garage Pride's lifetime garage floor product. If you are upgrading your garage floor from a cold dusty or oil stained concrete floor, Garage Pride's virgin loose lay garage floor tiles UK are your next ticket.
For inspiration for your new garage creation, browse our garage interior design interlocking garage floor tiles uk gallery or read some interlocking garage floor tiles uk testimonials.
Our garage flooring tiles are perfect for wiping out work floor abrasive dust, providing a smooth and stain resistant insulated flooring. Our garage interlocking floor tiles are fitted together as jigsaw floor mats, simply interlocking together. To ease this process, we also stock a tile laying kit, a great kit to take make fitting your own tiled garage floor easy and enjoyable.
These locking floor mats provide ideal firm foundations for vehicles on axle stands, engine hoist activity as well as jacks and motor vehicles and are the best garage floor tiles UK wide. Full density thickness, these virgin lose lay locking floor mats have anti-slip properties even when wet. Get in touch for your free 3D CAD render concept proposal.
Interlocking Floor Tiles For Garage
Interlocking floor tiles for garage are tight-fitting jigsaw floor mats for cold environments with firm concrete abrasive floors. Garage Pride recommends its bestselling virgin PVC loose lay tiles and has been helping customers who have even considered underfloor heating in garage floors, or even thought about heating garage floor environments ahead of a frosty winter. 
Browse Garage Pride's EVOtile PVC garage floor tiles UK range. Customers looking for the cheapest interlocking floor tiles realise that a PVC garage floor tile is far superior to a foam garage floor tile and happily upgrade to our coloured interlocking floor tiles allowing complete customisation of the colours in their garage, workshop or garden room. Our interlocking mats for garage have also been known to make durable interlocking camping floor mats especially in mess tents or family tents.
For the complete tiled garage floor up to the wall edging complete with tiled PVC ramp edge, choose your favourite interlocking floor tiles for garage out of our interlocking fitness mats, interlocking gym tiles, interlocking floor pads and interlocking exercise tiles.
For your free 3D CAD garage design proposal complete with technical drawings, before and after photos, get in touch today. Your soft interlocking floor mats and interlocking home gym flooring is just one phone call or email away!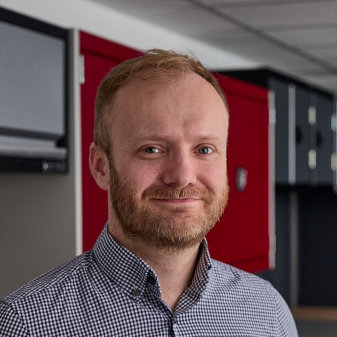 Richard Evans
Interior Design and Marketing Support
Richard uses a CAD system to create and render fantastic garage interior designs for prospective customers. He costs them out equipping Sales with everything needed to put together an exciting proposal.

He also manages the our website's content, products, prices and user experience liaising with the development company if more technical developments are required.

He monitors search engine performance and manages pay per click advertising and social media activity.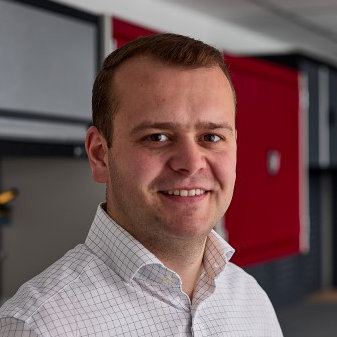 Matthew Hill
Business Development
Having previously worked in the construction and flooring industries, Matt joined in October 2022 to oversee the business development.

He now manages the sales and design team, as well as all aspects of installation projects. With plenty of experience in the industry, Matt is always happy to discuss any technical aspects of your design and advise you which solution will be best fitted for your application.
We're here to help
We are always happy to provide assistance with the selection of products on our website, and to discuss the differences between the various product options. Please give us a call.