Storage Ideas For Garages
Storage ideas for garages from the UK's leading garage interior designer Garage Pride. Browse through our popular storage ideas for garage categories here on our website which include garage cabinets, storage cupboards as well as wall storage, garage shelves, tool trolleys and tool chests.
If you are looking for small garage storage ideas, ceiling storage ideas or organization garage storage ideas then you are in the right place. Perhaps you have to de-clutter your garage to understand and see the potential of your garage or workshop layout? If that is the case, then get in touch with Garage Pride today to see the potential of your storage ideas for garages.
Send us the floor measurements of your garage interior with some photographs and we can put together a free Garage Pride proposal 3D rendered layout. It can be an unorganized or organized garage, the worse the condition the better the transformation potential! All our customers are very excited when they see their potential garage layout using our technical 3D CAD software.
Our 3D garage makeover render can take the reckoning out of planning your garage, or if you have a blank canvas and need some garage shelving ideas, workshop storage ideas, wall tool storage ideas or ceiling storage ideas. 
Storage ideas for garages vary depending on the designed use and purpose of areas of the garage amongst the storage requirements. Garage shelving ideas can range from electric shelving systems to maximise floor space and take full advantage of ceiling storage. These smart high lift shelving systems provide you with an organized garage, freeing up the entire floorplan of the garage to encompass all your workshop storage ideas, garage shelving ideas and ultimately any dream storage ideas for garages.
UK Garage Storage
UK Garage Storage can be thought and inspired by meticulous planning of floor garage cupboards and garage cabinets. The average garage interior has a regular makeover timeline of between five to seven years. This is one of the many reasons house and home garage interiors are seeing such a high level of thought and design, with the best investment in modern state of the art configuration possibilities. 
For customers in the UK, garage storage gallery is a source of inspiration of previous customer garage makeovers, take a look or read some of our UK garage storage testimonials. Would you like a free 3D render technical drawing of your dream garage transformation? Get in touch today so we can start the process, no commitment needed!
The optimum garage storage for small garage storage ideas makes full use of ceiling storage and ceiling storage ideas encompassing all of our garage roof storage ideas. Garage Pride have top of the range design concepts showcasing remote controlled, high quality motorised electric shelving for great garage tidy ideas. This can co-exist in a car garage habitat allowing storage of your motor vehicle at night and the use of motorised storage up-and-out-of-the-way system with button access for when ever you need it. Motorised electric shelving is ideal if you are looking for small garage storage ideas.
Garage Pride specialises in storage ideas for garages. We can conceptualise your exact ideal organized garage with our full range or garage shelving ideas and workshop storage ideas. Already considered garage storage DIY or thought about DIY floating garage shelves? For a dedicated bespoke set of organization garage storage ideas with a 3D CAD technical proposal get in touch here.
For some garage tidy ideas inspiration, please view our Garage storage ideas DIY gallery.
DIY Garage Storage
DIY Garage Storage is a traditional consideration for the DIY enthusiasts to start the process of creating storage either from woodworking and carpentry to creating wooden shelving or wooden grid boxing. Garage Pride have seen an increase in customers looking for a more modern DIY garage storage architecture that embodies well-engineered, lockable long-lasting garage storage solutions. 
When workshop owners or the man-cave garage environment becomes an organized garage with garage ceiling storage, garage shelving ideas and workshop storage ideas all designed professionally on a free 3D rendered proposal here from Garage Pride, then the tables turn! The garage gym, children's entertainment and creative workshop environment can transform the DIY Garage Storage brief into the new-designer hybrid family room.
Why not get in touch with us today to discover the potential of your DIY garage storage plan, and how we can re-purpose and fulfil every single part of your garage floor space, walls and ceiling. If you know the specification of garage storage cupboards including sizes, number of units, colours and finishes, then browse our collection or view our garage gallery for any inspiration. Please don't hesitate to contact us if you are looking for a free design brief or further storage ideas for garages.
Garage Pride can provide a whole range of garage racking ideas in various sizes, colours and finishes as well as floor mounted shelving, wall mounted or electric garage ceiling storage. Garage Pride are the UK's leading garage interior designer, so pick our brains for garage organisation ideas to suit your needs and requirements. Get in touch here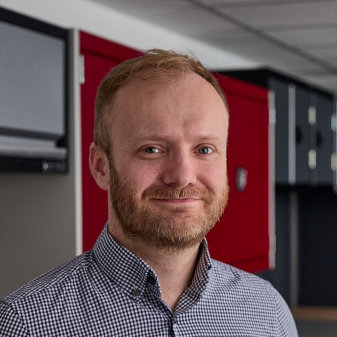 Richard Evans
Interior Design and Marketing Support
Richard uses a CAD system to create and render fantastic garage interior designs for prospective customers. He costs them out equipping Sales with everything needed to put together an exciting proposal.

He also manages the our website's content, products, prices and user experience liaising with the development company if more technical developments are required.

He monitors search engine performance and manages pay per click advertising and social media activity.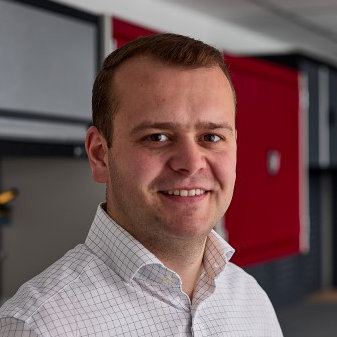 Matthew Hill
Business Development
Having previously worked in the construction and flooring industries, Matt joined in October 2022 to oversee the business development.

He now manages the sales and design team, as well as all aspects of installation projects. With plenty of experience in the industry, Matt is always happy to discuss any technical aspects of your design and advise you which solution will be best fitted for your application.
We're here to help
We are always happy to provide assistance with the selection of products on our website, and to discuss the differences between the various product options. Please give us a call.