Garage Flooring
Garage Flooring from Garage Pride is one of the most popular ranges of tiled garage floor transformations available in the UK. Find out why you must never jack up a car on cheap garage flooring and why our premium Virgin PVC garage floor tiles are the best by far in terms of quality, little compromise, cost saving and an immense transformation! 
Resin floors are the Rolls Royce of garage floors, but with that comes vast expense prepping the floor, repairing underlaying concrete cracks as well as regular maintenance and repairs. The average resin floor upgrade will only give you 2-4mm increase in height as the resin blends to become part of the concrete. Larger concrete floor workshops constructed with slab flooring have natural expansion joints which is not a good combination for a resin floor – so think Garage Pride EVOtile!
On the opposite end of the garage floor budget is the pot of simple garage paint which can give the floor a unique paint colour and lock in the concrete floor dust, but it is not really a renewed floor, can chip and still absorb oil and chemicals.
The best compromise on quality and cost is the 7mm Garage Pride EVOtile floor. With 10 to 15 years guarantee and an average life span of 25 years, any damaged tile can be repaired in a jiffy with a single replacement EVOtile. A Tile laying Kit is available to purchase and every EVOtile floor has Tile Ramps in Red, Blue, Black and the most popular colour being Graphite Grey. Check out our flagship Grey EVOTile Professional garage tile.
If you would like a more in-depth discussion with Garage Pride on why cheap garage flooring UK companies that sell cheap garage flooring tiles time and time again is not a good way forward, we can help explain the benefits of the Garage Pride EVOtile. Cheap garage flooring tiles are constructed of an empty sparse PVC grid structure that provides little grip, harbours dirt and damp. Over time cheap garage flooring tiles will curl on the edges and deteriorate. 
For the best garage flooring that provides a solid interlocking garage flooring combination, take advantage of our PVC garage flooring upgrade today. We can provide a free 3D CAD technical render for your garage to show the visual effect and you will be able to see how garage flooring is just the start of your new garage interior design and transformation! Get in touch here.
Garage Floor
Garage floor coverings include the entry level method of painting garage floor areas with concrete floor paints, through to top-budget expensive epoxy flooring with colourful epoxy resin flooring options. Consider that the resin flooring cost is in proportion to an entire Garage Pride interior design complete with state of the art cabinetry, workbenches and slatwall tool storage, browse our garage floor coverings gallery and you just may want to give us a call today to see what you could be missing out on with your garage makeover budget!
Garage Pride's PVC garage floor tiles are the best, value-for-money garage floor coverings solution, without the epoxy garage floor cost that a lot of customers come and talk to Garage Pride about. If you are getting one epoxy floor resin quote, two or even three epoxy floor resin quotes, then consider a Garage Pride luxury makeover 3D free render!
Garage Pride provide the ultimate and marketing leading entire garage interior refits, complete with design inspired luxury garage cabinets, garage floor and garage workbenches. A lot of customers facing the maintenance and upgrade costs of an epoxy flooring cost or with the awkward preparation and slightly messy job of preparing garage floor for painting which we know can hurt the pocket. Get in touch with Garage Pride for a free 3D render of your next potential transformed garage. This is usually just what our customers need to see! The concept visualisations really help to embrace the upgrade cost of a new garage floor, as well as drive inspiration for themselves, friends and loved ones.
Garage Floor Covering
Garage floor covering design starts here with Garage Pride. Browse the best garage floor covering for your garage or workshop. You may be looking for garage floor coverings near me? Well good news! Garage Pride are nationwide, one of the leading garage floor covering companies in the UK with all the garage floor covering options and the best range of garage floor covering tiles available anywhere. 
The best garage floor covering is available now with the Garage Pride EVOtile range, the best engineered and most affordable mid-range garage floor covering cost per square foot or metre from a resin garage floor to cheap low quality recycled and grided garage flooring. These Garage Pride best garage floor covering options can be provided with a FREE 3D CAD render visual of your transformed garage, if you would like a garage interior design proposal complete with before and after photos, get in touch today!
Concrete garage floor coverings are also available for larger commercial garages and workshops, barns and outbuildings. Garage Pride provide the best garage floor covering for winter. The PVC garage floor tile is a softer safer PVC surface than the cold hard concrete floor. If you would like a visual 3D technical render for your next commercial garage floor covering, then get in touch here or browse our corporate workshop projects for previous commercial fit-outs.
These are some of the best rated garage floor covering solutions for our clients' needs and commercial requirements. View some of our garage floor covering testimonials including: "Easy garage floor covering…" and "A new garage floor covering paint and chipped floor" and "Heavy duty garage floor covering our soiled concrete floor".
The heavy duty garage floor covering from Garage Pride is a loose laid, virgin PVC interlocking tile covering that has been in production for the past 23 years. The protective garage floor covering is available in the Garage Pride EVOtile Professional and the Garage Pride EVOtile Performance tile range. This non slip garage floor covering is ideal for commercial environment providing a rock solid garage floor covering that can be used with engine hoists, car jacks or heavy gym equipment. This durable garage floor covering is not a waterproof garage floor covering because of its interlocking loose lay application, however any damaged tiles can be replaced quickly and easily by lifting and replacing individual garage floor covering tiles.
Garage Flooring UK
Garage Flooring UK at Garage Pride covers nationwide garage floor coverings for the home garage and workshop or commercial garage. Racedeck flooring is one of the niche choices of our customer base with fantastic car and bike collections. Owners looking for racedeck garage flooring options always ask for the free Garage Pride interior design service which helps paint a picture of the transformation from dusty concrete workshop garage to a new garage comprehensive fit-out.
Our proposal with racedeck garage flooring price or racedeck cost we find is always a huge saving and advantageous with building out garages featuring Bott Cubio race style cabinets, versus just a high budget epoxy resin floor and little budget left over for designer Bott Cubio garage furniture.
Garage Pride can create incredible and transformative garage environments in your home with all sorts of garage flooring options UK wide. The best flooring for garage gym UK wide is the Garage Pride EVOtile Professional Tile either in smooth texture or raised disk texture and available in an assortment of colours. Browse our customers garage flooring gallery showcasing their transformed garage flooring ideas UK. Variations of garage flooring range from racedeck flooring through to checkered garage floor, as well as other creative and practical solutions with darker colours for tyre treads. Get in touch today for your free proposal with 3D technical architectural garage flooring UK and nationwide.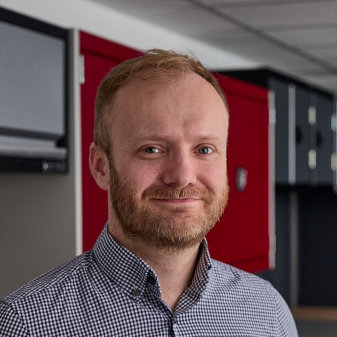 Richard Evans
Interior Design and Marketing Support
Richard uses a CAD system to create and render fantastic garage interior designs for prospective customers. He costs them out equipping Sales with everything needed to put together an exciting proposal.

He also manages the our website's content, products, prices and user experience liaising with the development company if more technical developments are required.

He monitors search engine performance and manages pay per click advertising and social media activity.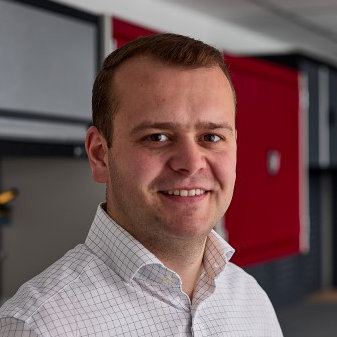 Matthew Hill
Business Development
Having previously worked in the construction and flooring industries, Matt joined in October 2022 to oversee the business development.

He now manages the sales and design team, as well as all aspects of installation projects. With plenty of experience in the industry, Matt is always happy to discuss any technical aspects of your design and advise you which solution will be best fitted for your application.
We're here to help
We are always happy to provide assistance with the selection of products on our website, and to discuss the differences between the various product options. Please give us a call.